A 15th Anniversary for the Ages
What a way to celebrate 15 years! 
Last weekend over 300 strong joined forces in Washington, DC to honor SEGL's history and to look toward the future.  Along the way, they heard a panel of SEGL All-Star Golden Mug Award winners, asked questions of the sitting United States Ambassador to the UN, honored a Member of Congress, heard tales from our very first semester, and packed one of DC's most beautiful buildings for a special evening celebration.  
The weekend began underneath the U.S. Capitol in the Congressional Atrium, with a welcome reception attended by graduates, family members, current and former faculty members and trustees, and friends.  The marble columns provided a fitting backdrop: just overhead, the House of Representatives was struggling to fill a leadership vacuum - a vacuum our graduates will fill in the next 15 years and beyond.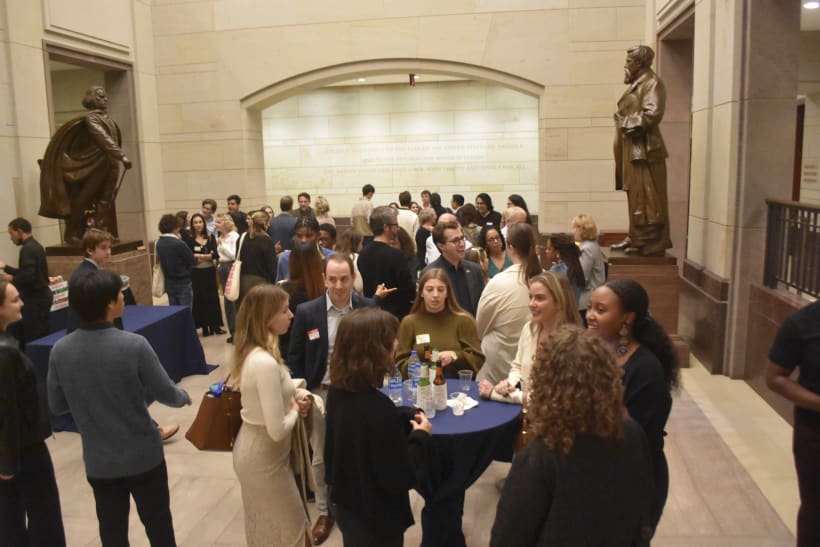 The next morning dozens of family members and friends packed into the Simon Conference Room at the United States Institute of Peace to participate in a model English class led by Director of SEGL in London and English teacher Christian Starling, SEGL in DC Academic Dean Colleen Kyle, and SEGL in Johannesburg Director of Partnerships and Operations Keith Mungdangepfupfu.  The class (a version of an actual SEGL lesson plan) included thoughtful discussion, Shakespeare's Henry V, tennis balls, and some impromptu acting!  The teachers also took time to explain several of SEGL's classic pedagogical principles and techniques.
Next, we filled USIP's Carlucci Auditorium for a powerful panel discussion on civil discourse, moderated by Fall 2019 graduate Rosie Juma.  The panel featured longtime SEGL All-Stars: Golden Mug winners Ghaith al-Omari (the noted Palestinian negotiator), Clark Neily (the Constitutional lawyer and Cato Institute Vice President), Lissa Muscatine (the longtime top speech writer to Hillary Clinton), and Ambassador George Moose (the former Assistant Secretary of State for African Affairs).  Also on the panel were this year's Golden Mug honoree, U.S. Representative Dean Phillips, and Member of the UK Parliament Ben Lake, a longtime favorite of our London students.  After Phillips and al-Omari offered opening thoughts on the current Israeli-Palestinian crisis, the discussion included many memorable exchanges grounded in SEGL's key values.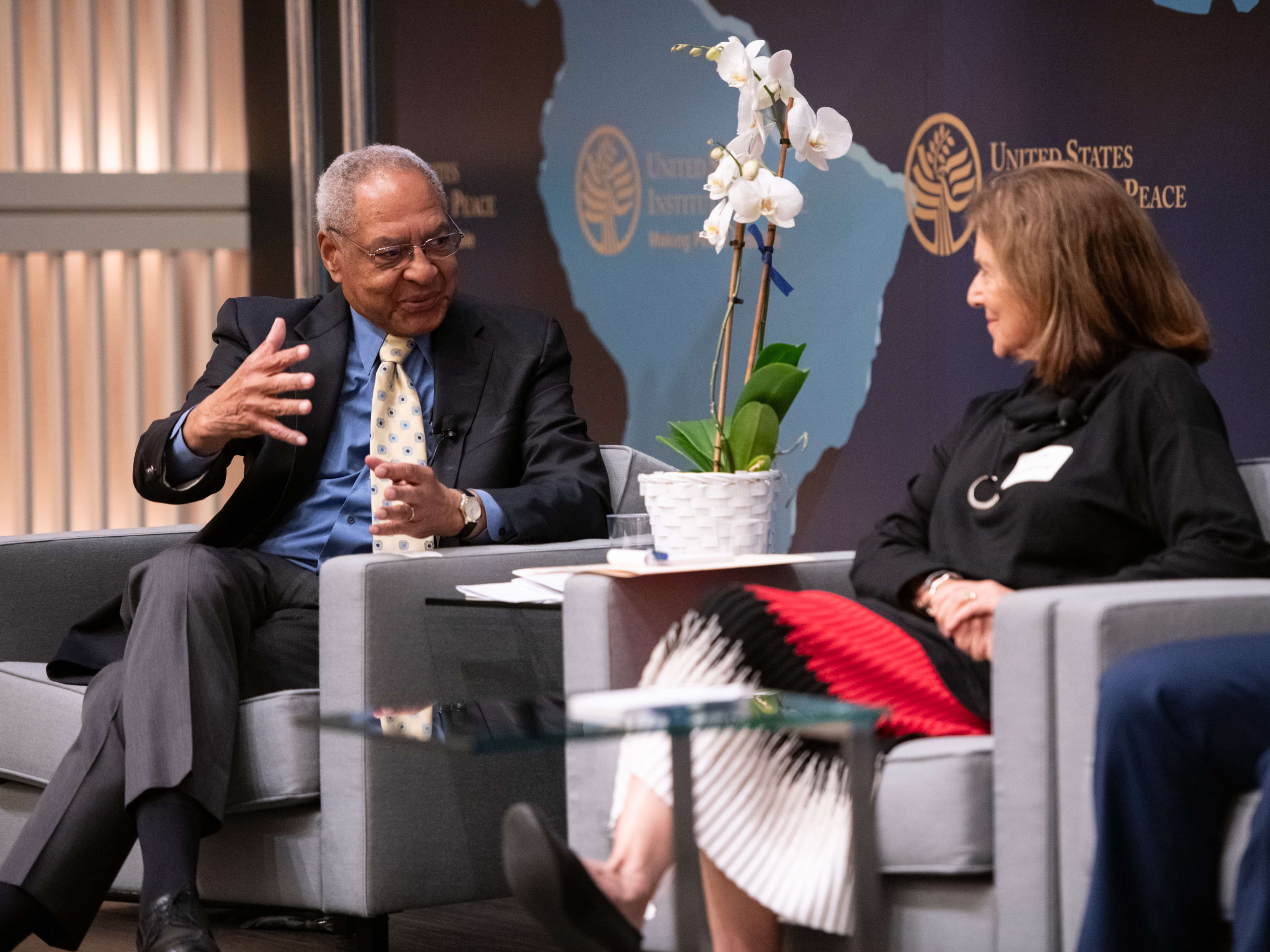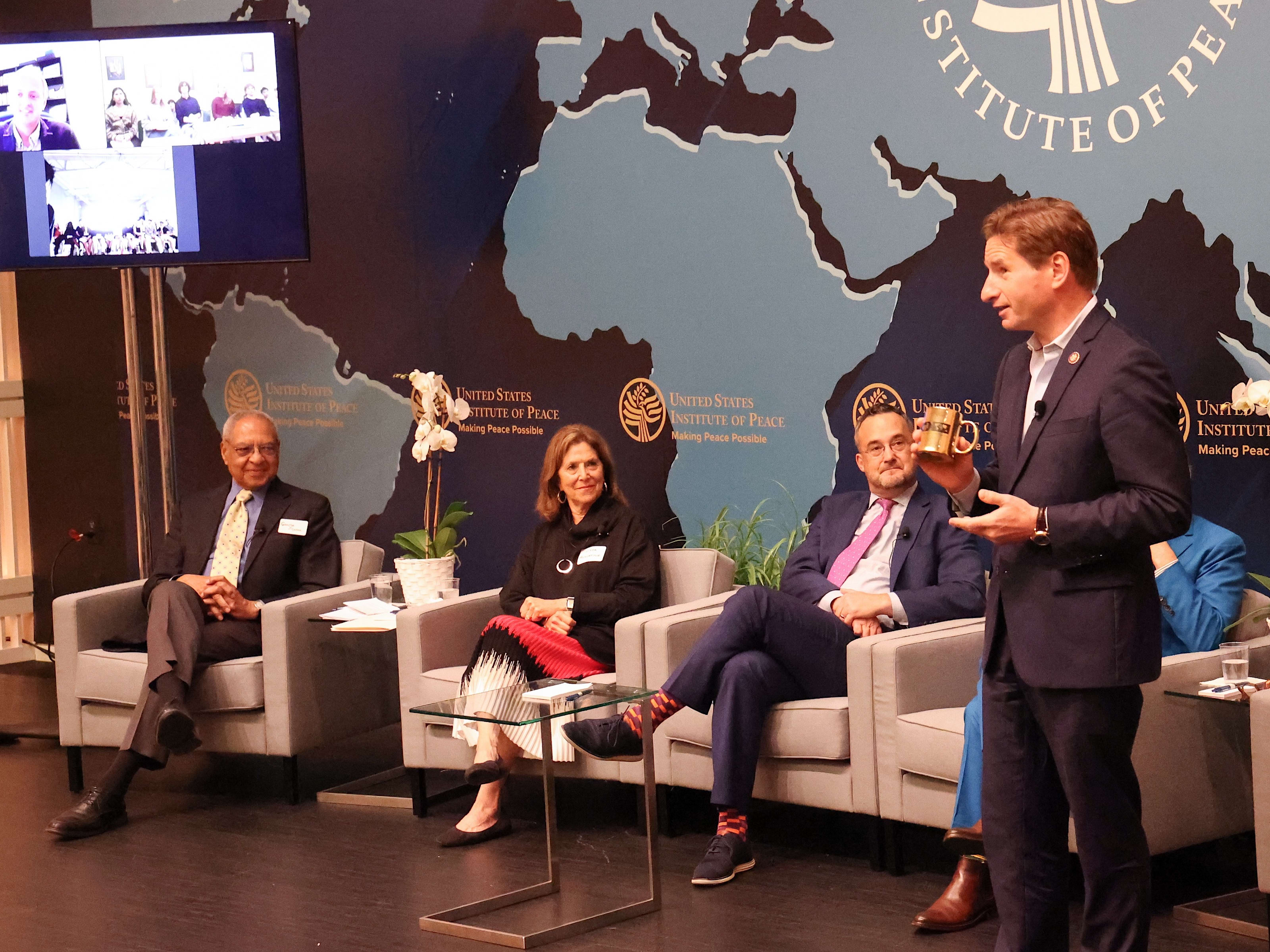 After lunch, we learned what it was like during SEGL's first semester from three Fall 2009 graduates (Markus Batchelor, Valentina Perez, and Sophia Sennett), founding faculty member (and Golden Mug winner) Henry Pedersen, and founding board chair Matteson Ellis.  The panel began with an SEGL trivia quiz and included questions about SEGL Founder Noah Bopp, what drew the students to apply, how SEGL has impacted their lives, and more.  At the end, moderator (and current student) Justin Khan surprised the graduates with copies of their answer to the SEGL application's first essay question: Where do you see yourself in 15 years?  A fitting question for a 15th anniversary!
(To learn more about Markus' DC City Council campaign, click here.)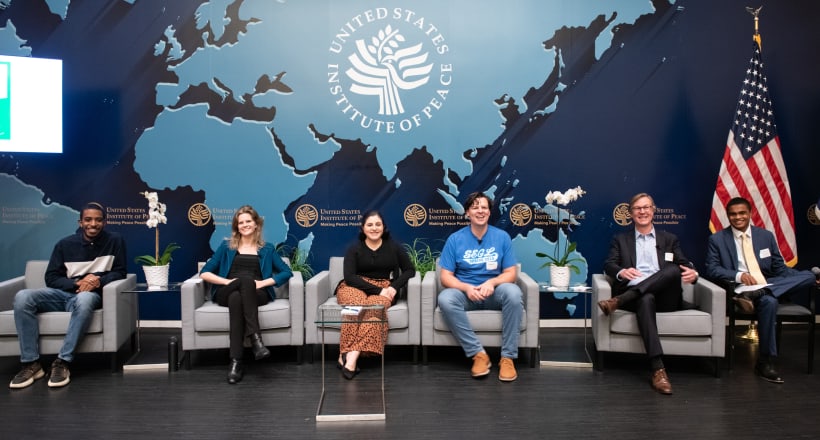 Then it was time for our keynote conversation with Amb. Linda Thomas-Greenfield, United States Representative to the United Nations.  Fall 2018 graduate Courtenay White moderated the discussion, which included questions about the Israeli-Palestinian war, Ukraine, advice for future leaders, the Ambassador's brush with death in Rwanda, UN reform, and her "gumbo diplomacy."
As was the case in our morning panel, the proceedings were particularly focused due to the crisis in the Middle East. As Ambassador Thomas-Greenfield said, the world needs the leaders SEGL incubates urgently and more than ever.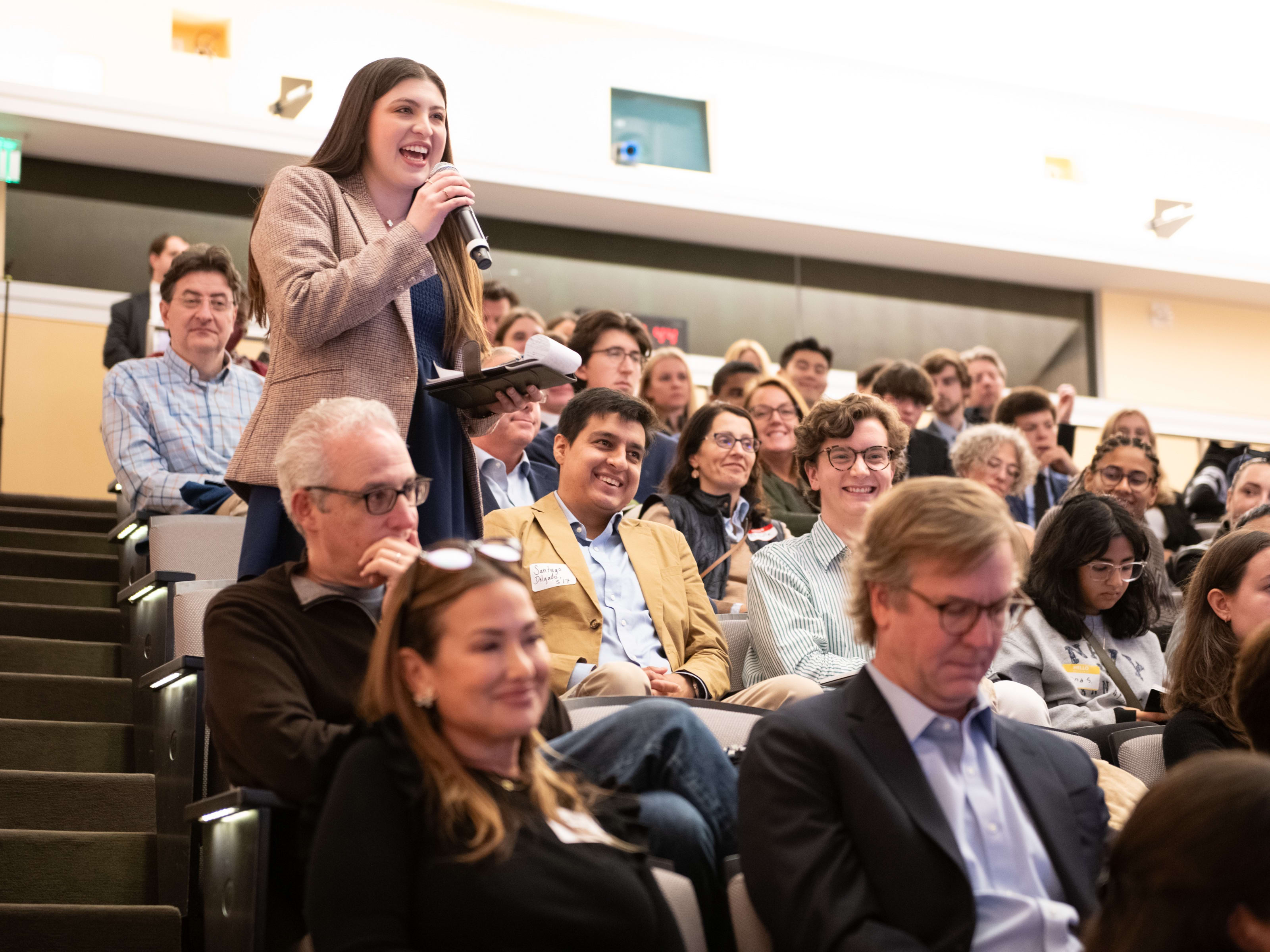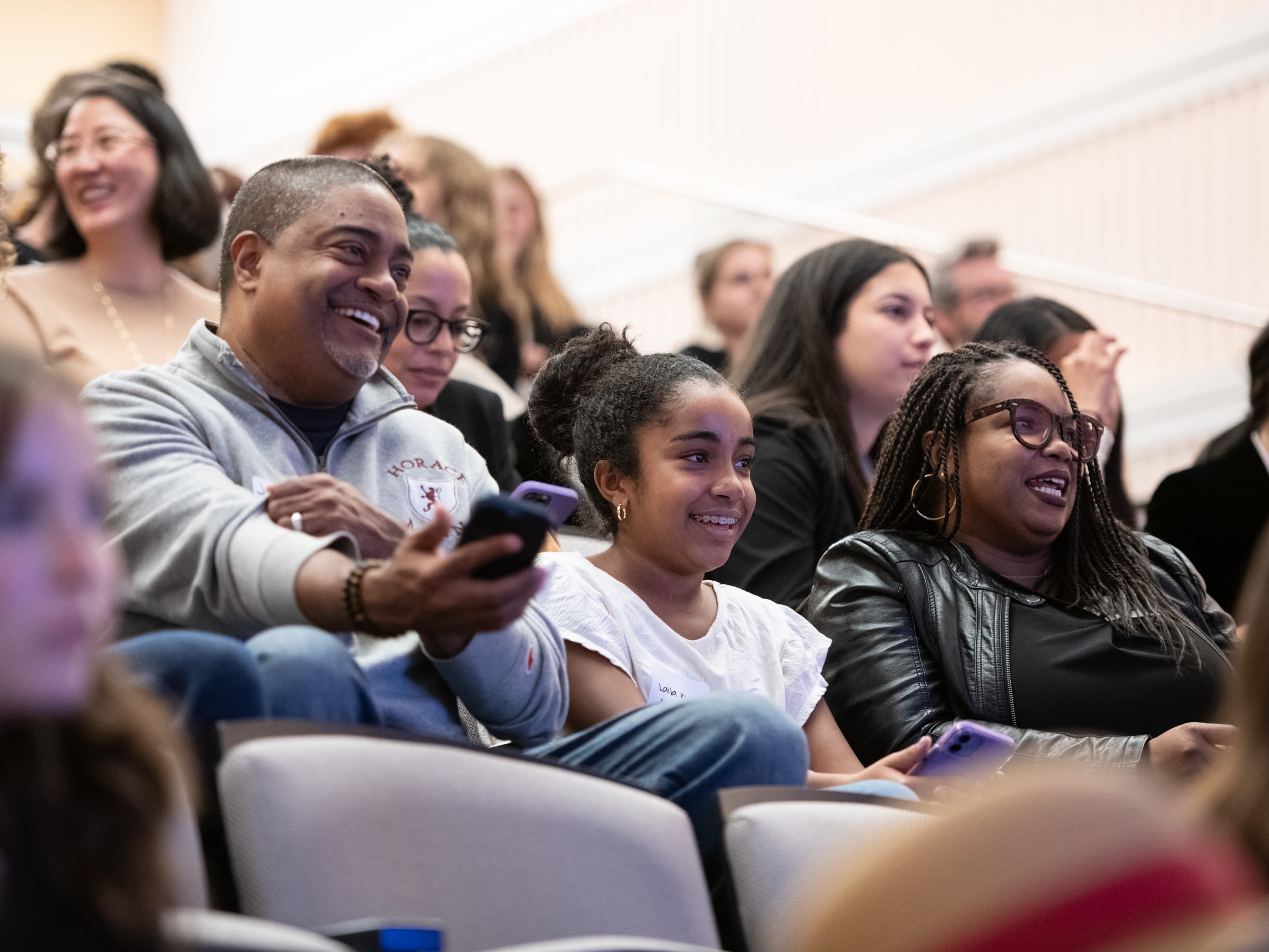 Several hours later our guests returned to USIP for a jam-packed, inspiring evening Gala.  Hundreds of graduates, current and former teachers and trustees, guest speakers, and friends celebrated our first 15 years and, as SEGL Founder and Head of School Noah Bopp exhorted, gathered our family's strength.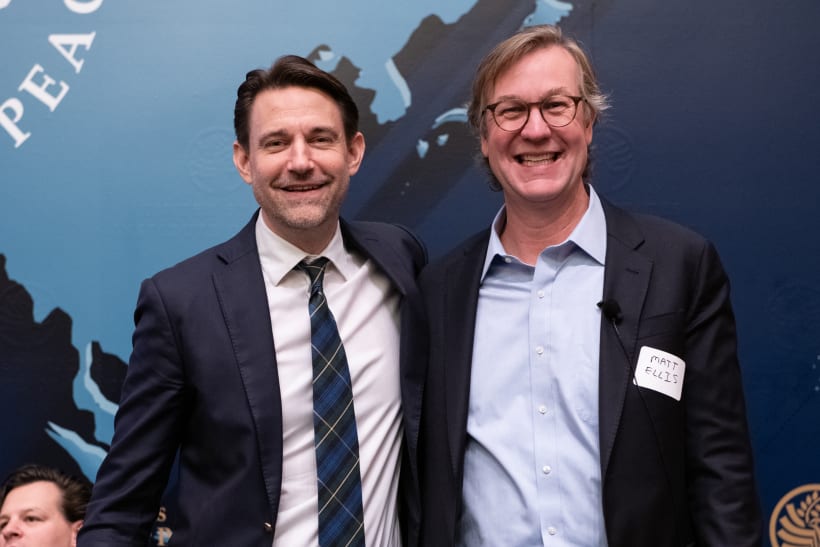 On Sunday morning, several dozen joined Bopp, SEGL Board Chair Liz Wainger, SEGL in Johannesburg Director Sirianna Santacrose, and SEGL in London Director Christian Starling for a compelling State of the School conversation.  What has SEGL accomplished in recent years, and what key goals are in its long-range plan?  The conversation was robust, and then we bid each other farewell until next year.
Until next year, indeed!  We are already planning something memorable and meaningful.  See you October 18-20, 2024! 
If you would like to help fund the weekend's festivities, please click here!